Who among us doesn't wish they lived in a '70s dreamland? Continuing the 1960s fashion theme of individual style, flares, platforms, fringing and suede dominated the '70s fashion era with icons aplenty; Joni Mitchell, Cher, Bianca Jagger, and more making huge waves in the style world.
From hippy and glam rock to disco and bohemian, the decade encapsulates numerous iconic styles that are still wearable today. It's the ideal decade of fashion for encapsulating summer. With key items and details for which the '70s are known for, such as earthy tones, suede, bell-bottom pants, fringing and high-waisted designs, embrace the whimsical uniqueness and freedom of expression of the '70s this summer.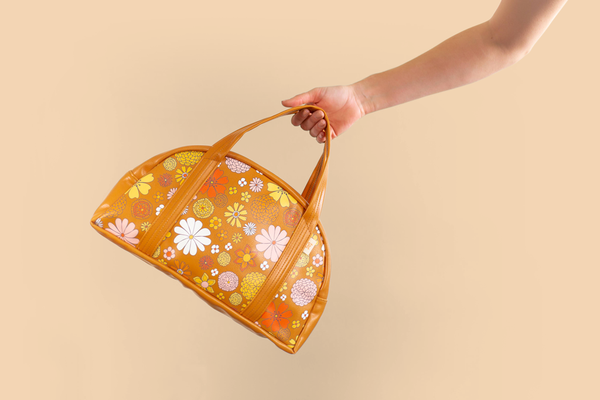 Lil Miss Sunshine Flower Power Tote
Nothing screams "'70s!" quite like retro colors and bold floral prints. This vegan leather tote bag makes a majorly groovy statement and is big enough to hold all your daily essentials into summer and beyond!
Shop some more of our favorite '70s-inspired styles:
Re/Done '70s Graphic Tee
Super soft and perfectly retro.
Sundry Cobalt Shorts
Track-inspired short shorts were all the rage in the '70s, and we're still here for it.
Hannah One-Piece
Effortlessly laid back and available in five colors, this is perfect for beach days or nights out.
Aurora Wrap-Tie Clog Sandal
Pair these '70s-inspired shoes with with your favorite denim shorts or flowy sundress.
Kylie Reversible Top
We don't know what we love more, the square-neck side, the cross-front side or the dainty flared cuffs.
Rolling in the Flowers Wide-Leg Jeans
These fun pants pair perfectly with your favorite crop top and clogs.
Bouncing Over the Rainbow Denim Shortalls
These denim shortalls combine so many of our favorite elements of the 1970s.
Calabasas Clogs
No '70s-inspired wardrobe is complete without the perfect pair of clogs. These also come in two fun floral prints.
Shop the post: